500 Words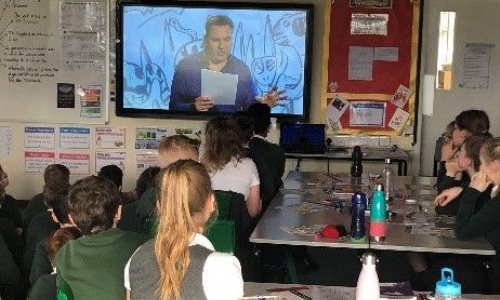 On Thursday 7th February, Year 6 watched the 500 words 2019 Live Lesson.
Choosing the genre of horror (which the majority of the country voted for [instead of a fantasy story]), children across the country, helped authors: Charlie Higson and Frank Cottrell-Boyce to write the official 500 word story in 40 minutes. There were also some amazing illustrations from illustrator: Elys Dolan – she took inspiration from viewers' ideas and put them straight onto paper.
Children in Year 6 at TRJS found that, as they were taking part, their 'creative sparks' were going off like fireworks in their heads.
Once the story was completed, there was a surprise appearance from the best-selling author: David Walliams, who read the finished story, which was named 'The Night the Village Died'. This amazing story had a surprise twist at the end.
Year 6 have now been inspired to write their own 500 word story, based on Beneath the Surface – the sequel to The Watertower.
Written by Year 6.