Peace and Remembrance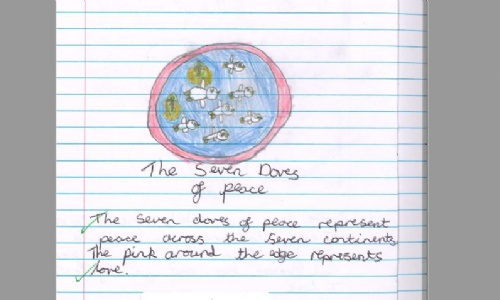 This week we have been reflecting on 'what does peace look like, feel like and sound like?' alongside understanding more about why we hold a two-minute silence on Armistice Day on November 11th. We learnt about the British Legion's message: Our red poppy is a symbol of both Remembrance and hope for a peaceful future. Children in Year 5 and Year 6 designed their own symbols of peace.
On Tuesday 12th November it is Guru Nanak's birthday - a special day in Sikhism called Gurpurab. We learnt about his life, and the special message that he heard from God: God created everyone and God loves everyone. To God, all people are equal. Young or old. Rich or poor. Male or female. Hindu or Muslim. And God wants us all to treat one another as equals.
We reflected on how both of these messages work towards a peaceful future and we discussed the things we can do, think and feel to make the future peaceful for ourselves and others.