Healthy Mind and Body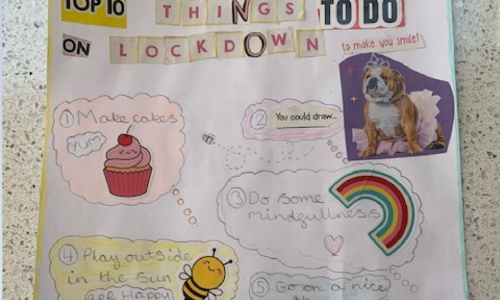 Every afternoon we set a lesson activity which has a focus on health, safety and wellbeing. This week I asked you to send me the posters you had designed to show people what you were doing in lockdown to keep your mind and body in good health. I had many entries and the quality was so high it was very difficult to choose just one to show on the website. So well done and thank you to Sid, Monty, Amillie, Zoe B, Isabelle R, Siân and Kyon for their poster designs. They were so creative with such original ideas and thoughtful suggestions. You can see their posters in the pdf below.
A special well done to Lois whose poster blew me away! I loved the use of collage pictures and cut out letters and words for the title. I thought it was very clever how she had set it out to draw your eye down the page through each of the suggestions, with excellent use of attention-grabbing colour. It deserves its place on the school website front page. You can see her full poster below too.