Enterprise Project Launch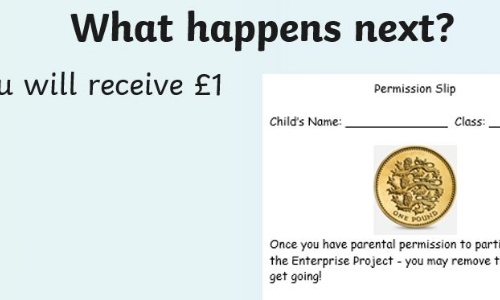 Have you ever wanted to be your own boss? Do you have a bright idea? Could you be the next Young Apprentice? Then this is the project for you. Over the next 12 weeks, your challenge is to grow the £1 given to you by school into as much money as you can. Have fun with any type of project you can think of - car washing, host a nail painting party, make and sell bird feeders, design and make cards to sell to your family and friends.
At the end of the project, we will collect all of the money you have raised and put it towards more classroom iPads for our school.
Participation in this project is not compulsory - it is an entirely voluntary home learning project. However, we hope that it is something that will capture the children's imagination and ignite entrepreneurial sparks, as well as being a different and fun approach to raising some funds for school. It is also a great way of building the children's understanding of finance and budgeting.
What happens at the end of the project? The project runs from now until 5th June. Financial Awareness Week is 12th – 16th June. It would be really superb for us to be able to share the children's hard work on their projects. We'd love to create a display so would be grateful if parents could send in any photographs, completed project diaries, accounting sheets or even presentations about the different business ventures the children have undertaken. These will be shared by the children in classes during the week 12th – 16th June.
We will have a special Awards assembly on Friday 23rd June where we will share some of the projects with the whole school, announce total funds raised and present children with their certificates. Every child who participates in the project will receive a certificate and be entered into a prize draw.
We will be awarding individual prizes such as:
Most Inventive Project; Profitable Business Prize; Best Business Presentation; TRJS Junior Entrepreneur 2023
We will also award group prizes such as:
Highest Fund Raising Year Group; Finest Joint Company Initiative
There will be a range of prizes for the above awards, including vouchers for activities such as cinema trips, family days out and passes for activities e.g tobogganing or craft sessions. We will be asking families to return any money raised via Parent Pay during May and up to 5th June. For joint companies, please return the amount raised via one Parent Pay account, listing all children involved in the initiative.