Thank you and Goodbye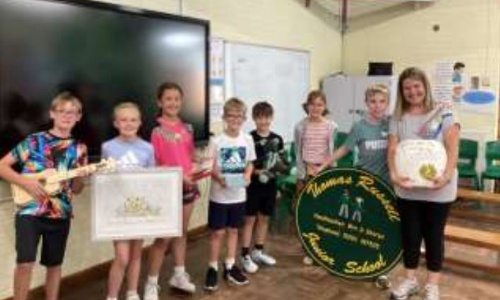 What a final week of school we have had. In true TRJS style, we celebrated another fantastic year of learning, playing and growing together with our Y6 awards, whole school Big Awards, super-fun live music assembly and outstanding (and hilarious!) Leavers' Assembly. We wish all children and families who are leaving us our very best on their onward journeys and new beginnings.
Thursday's picnic and TRJS Fest was an absolute triumph with so much fun being had by every child and member of staff. The bouncy castle, slide, ice cream van, outdoor disco, sports and party games kept us laughing and sharing together all afternoon. What a perfect way to round off the year.
And finally, a huge thank you to Mrs Sharpe. Thank you for all the messages, cards, presents and thanks she received over the last few weeks - a wonderful way to honour her 19 years of unswervingly dedicated and inspirational service at our school. We all want to say 'Goodbye' and wish her good luck on her new beginning too.